The official announcement of this year's biggest sale has been made. Amazon's Great Indian Festival Sale 2021 is the most exciting time of the year when buyers from all budget groups can grab steep discounts on their favorite products. It is the only sale when you can afford all those products that you longed for the entire year. Be it smartphones, tablets, electronics, home appliances, apparel, kitchenware, etc, Amazon offers jaw-dropping rates on almost every product to bring it under buyers' budget. The e-commerce company hasn't revealed the official dates of the sale. But through the official teaser of the sale, but one can expect it in the first week of October on the auspicious occasion of Navratri. It is the only sale of the year that offers great discount offers on various categories.
The e-tailer has released the teaser of the Great Indian Festival Sale on its official website. This year's festival sale is going to be bigger than the last year, as per the rumors. Every shopper can expect heavy discounts on Smart TVs, home appliances, accessories, mobiles, furniture, laptops, smartwatches, and a lot more. Like every year, Amazon Prime members will give one-day prior access to all the prime members. So, it's time to grab the Prime membership to avail the discounted products before the stock ends.
Eye-catching Reveals of the Great Indian Festival Sale 2021
There are some of the offers and deals confirmed by the company to get you ready for the sale. Some of them are mentioned below:
With Amazon coupons, you can save loads of money on 20 lakh+ products.
During Amazon's Great Indian Festival Sale 2021, you can expect the latest launches every day.
There will be up to 40% off on electronics and mobiles.
You can expect to save up to Rs.5000 during the Great Indian Festival Sale.
Amazon Great Indian Festival Sale 2021 – Bank, card, and exchange offers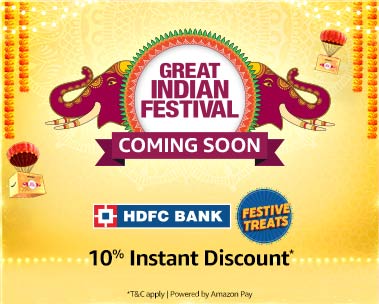 The most exciting thing about 2021's Amazon Great Indian Festival Sale is that the company has partnered with HDFC bank to offer an additional 10% discount with debit/credit cards.
Also, to increase this year's sales the company is offering Amazon Pay ICICI bank credit card an additional 5% cashback in Amazon pay balance along with Rs.600 joining bonus.
Moreover, Bajaj Finserv is offering No cost EMI on debit/credit cards with a credit limit of up to Rs.1 lakh. There is also an exchange offer of up to Rs.25, 000.
Amazon Great Indian Festival Sale 2021 – Deals on smartphones and accessories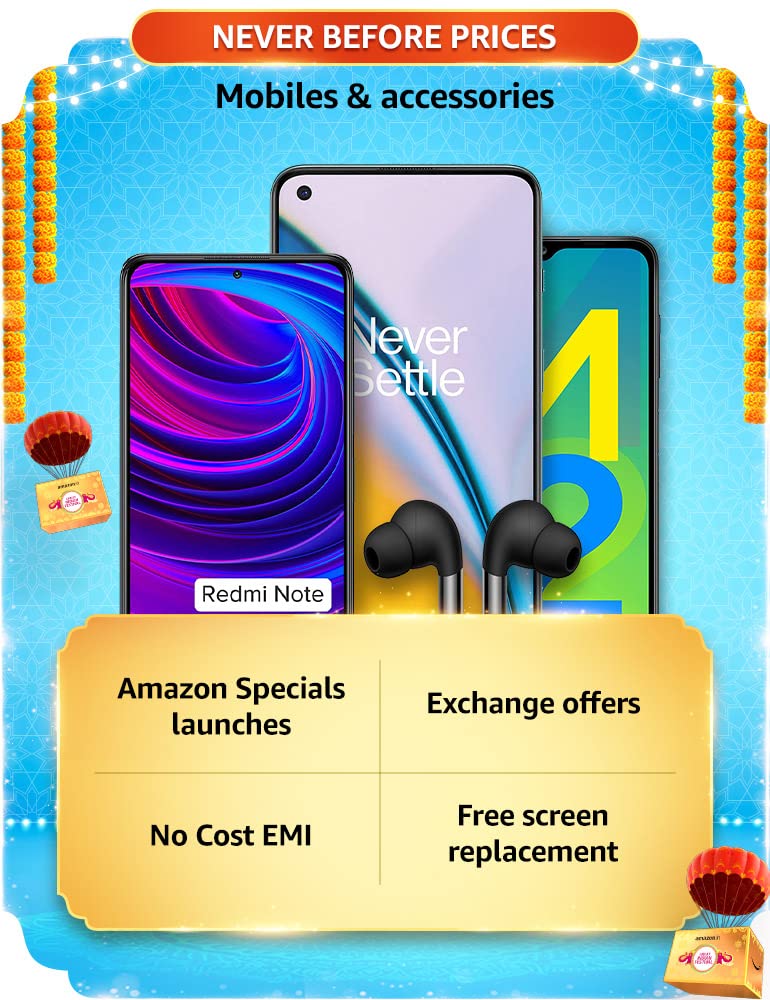 It happens only once a year that you can expect bigger and better discounts on smartphones and accessories. During Great Indian Festival, you can expect to shop with No cost EMI option on various brands and new launches. With the latest launch of the iPhone 13, the prices of its previous model have steep down. Also, there is a discontinuation of iPhone 10R, iPhone 12 pro. Therefore, you can expect great deals on these iPhone models including iPhone 11.
Moreover, Amazon is going to have special launches under this category. There is also going to be exchange offers and free screen replacement offer.
Amazon Great Indian Festival Sale 2021 – Deals on Home and Kitchen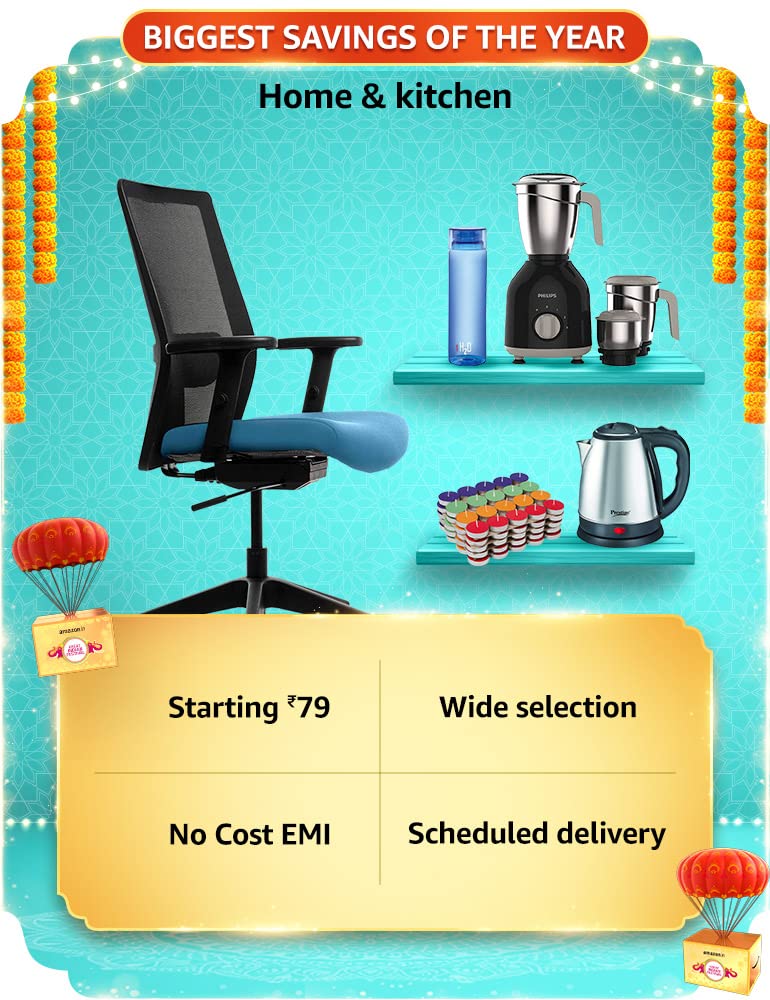 When talking about the biggest sale of the year, how can one forget about the deals on home and kitchen? You can expect the biggest savings of the year for this category. The company is offering 25,000 plus deals for all budgets. The biggest and top brands under this category are going to be under heavy discounts. Plus, you can save more with Amazon coupons. The company offers no-cost EMI starting from Rs.250/month option under this category. More information related to products and prices will be revealed soon by Amazon.
Amazon Great Indian Festival Sale 2021 – Deals on Electronics
Heavy discounts and exciting offers on electronics is the main attraction of Great Indian Festival Sale. One can expect unbelievable discounts on electronics and accessories. 2021's deals on electronics and accessories are going to make your heart smile because:
Coupon discounts on 14,000 plus products.
Up to Rs.25, 000 off on exchange.
Additional 5% discount on combo offers.
Up to 24 months no-cost EMI
The prestigious brands under this category that you can expect are Apple, Lenovo, Intel, Realme, Boat, HP, etc. A lot more exciting deals can be expected that can help you save more money during this time of the year.
How to get the deals before they get sold out?
Many customers miss out on the deals during this special sale. Knowing the fact that it's the biggest sale of the year, Amazon offers mammoth discounts on many sought-after products, including iPhones, flagship phones, laptops, TVs, and home appliances. However, due to the rising demand during the special sale time, the products run out of stock quickly. So, the best way to get your favorite product without missing it out is:
Make a Wishlist: It 's the right time to start making the wishlist. The sale is now just two weeks away. And, you should start preparing the list of products that you are planning to buy. Once you make a wishlist it will help you to get the products without facing any problem.
Get the Prime Membership: Amazon offers access to the Prime members one day prior to the normal dates of the sale. The prime membership will cost you only Rs.129 per month. If you don't want to take it for an entire year then get it for the month of October to get early access to the sale and grab your favorite products.
Conclusion
The stage has been set for Amazon's Great Indian Festival Sale 2021. Soon the dates will be revealed by the company. The customers can expect bigger and better deals than last year's Amazon Great Indian Festival Sale. So, get ready for the most exhilarating time of the year.